Timers
---
Timer Console - 5 Outputs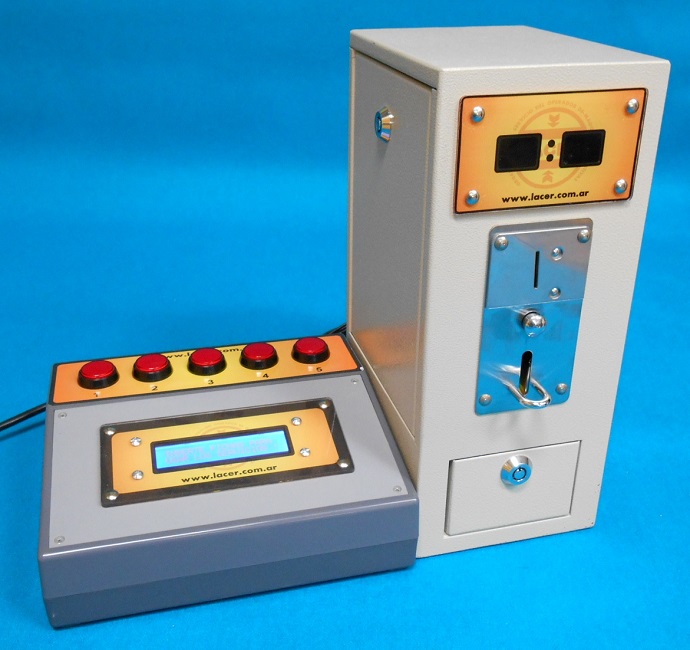 • Timer box with metal and plastic case to operate 5 different services.

• Timer box cabinet plus a plastic case that includes five buttons for service selection and an LCD for user to view all the instructions clearly.

• Cabinet constructed with 1.2 mm thick metal and exterior finish by with epoxy paint.

• Allows the use of legal coins or tokens.

• Resistant outdoor use bright buttons.

• Accumulated for each input record or coin Time.

• Collector drawer with lock and tubular capacity of 500 sheets maximum.

• Coin counter / built on the same computer chips.

• Simple via a single cable to the 220V line installation.

• Intended to 5 independent outlets across 5 relays built into the motherboard.

• Beep configurable built before the end time of each of the services.

• Programming of all parameters without a PC via the programming buttons on the inside of the computer.

• Includes programming manual, wiring diagram and cable 220V necessary for installation.
HOW IT WORKS:
1) The user inserts a coin into the coin acceptor.
2) The LCD shows a message informing the amount of inserted coins.
3) Now the user can select any of the 5 different services.
4) Once the desired service is selected, the button light stays on, indicating that the service is being used.
5) The timer starts counting for that serivece, allowing other users to continue using the console for other services available.
(When you select a service that is already being used, ie light is on, it will accumulate time available for that service).
Some of the most common applications:

• Car washes.

• Showers in public toilets.

• Lights on tennis and soccer courts.

• Sunbeds.

• Washers and dryers.

• TVs.

• Treadmills.

• Air conditioners.

• Computers.

• Gaming consoles (XBOX, PlayStation, Wii, etc.)

• And any other service that is marketed by fractions of time and requires a prepayment system.

IMAGES OF THE PRODUCT: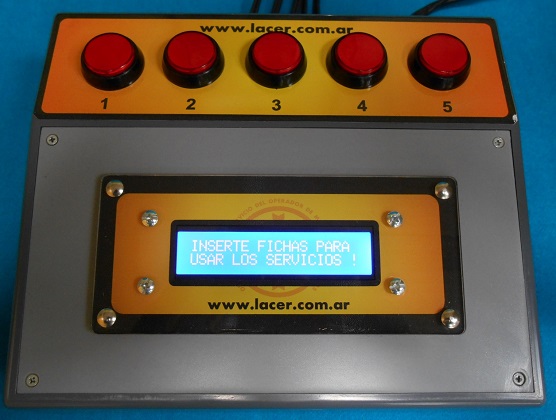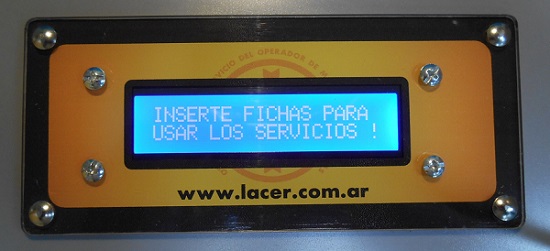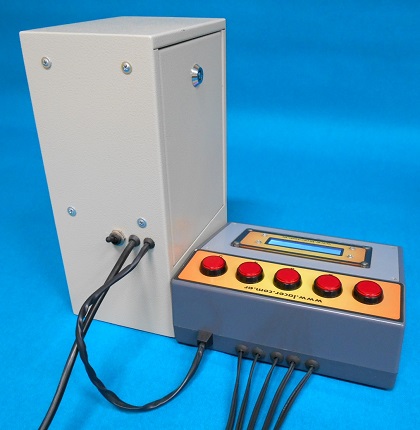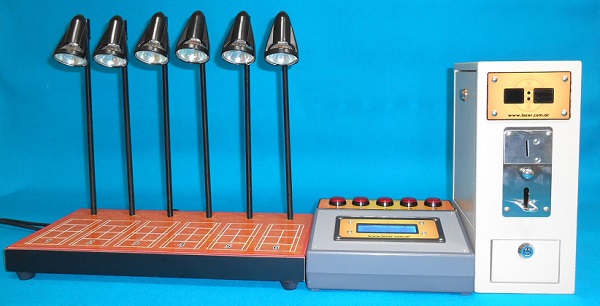 Demonstration Video:



METAL CASE DETAILS:
Dimensions: 135 mm (width) X 320 mm (height) X 180 mm (depth)
Weight: 5,2 kg.
Power Supply: 220AC Volts +/- 5%
PLASTIC CASE DETAILS:
Dimensions: 230 mm (width) X 80 mm (height) X 190 mm (depth)
Weight: 0,5 kg.
• Includes schema and connection cable required for installation.